Marking a different occasion?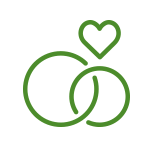 Celebrate Your Wedding
Congratulations on your engagement, and thanks for thinking of Cerebral Palsy Alliance in the lead up to your big day. If you already have everything you need to start your life together, you might consider asking your guests to make a donation rather than gifts - we could even help you create a 'registry' which would show guests what their donations could mean to a person living with cerebral palsy. Alternatively, you might wish to make a donation yourself, in lieu of wedding gifts (bonbonniere).
Thank you to the following supporters who donated their days!
Nikki
Asked guests at her bridal shower to give donations rather than gifts and raised $558 to support research into cerebral palsy.
Paul & Frances
Paul & Frances asks guests at their son's baptism to give a donation rather than a gift. They raised an incredible $4,500 which was then matched by Paul's employer - meaning they contributed $9,000 to CPA.
Paul
To celebrate his 50th birthday, Paul asked his friends and family to make donations towards specialised equipment. Thanks to their generosity, $35,000 was raised and eight people living with cerebral palsy received equipment they otherwise wouldn't have.
Isla
Asked friends and family to make a donation for her 2nd Birthday. Together they raised $304 to support people living with cerebral palsy.