Fundraising at your work builds community and makes a difference at the same time.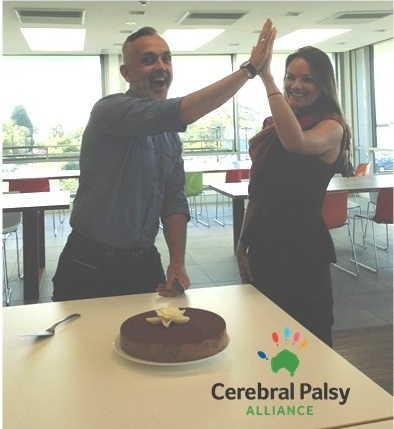 Gather your team, office or whole company and get together for a great cause.
We're here to support you every step away, and can provide loads of fundraising resources to help make your activity a success.
If you're stuck for ideas, here are some great ways to raise funds at work;
Mufit Day/Casual Dress/Themed dress up - Ask the boss or HR if you could hold a casual dress day or themed dress up for the whole office. Friday is a great day to hold this, and you could organise an afternoon tea or office drinks to accompany it. Staff can make a donation to show their support.
Cake Stall/Morning Tea - A very popular and easy way to fundraise at work. Choose when and where to hold your event, and we can provide posters to promote it, or you can create your own. Ask people to donate online or bring cash to donate at the event.
Donate a percentage of sales - Your organisation might want to support people living with cerebral palsy without hosting an actaul event. A great way to do that is to donate a percentage of sales on a monthly or quarterly basis. We'll provide you with the tools you need to share what you're doing with your clients and the wider community, and you could even add a note to your invoices asking clients to add a donation to your fundraising.
Thank you to the following organisations for their incredible support!
Tregloans Chartered Accountants
Raised $62.50 by holding a casual dress day in their office.
Blue Toro Mechanics
Ask their customers to make optional donations via their invoicing. To date they have raised over $3,508 to support people living with cerebral palsy.
Frankpile Australia & Keller Ground Engineering
Generous staff make small weekly contributions that add up to amazing things. In 2016, their donations totalled $30,000 which helped purchase a powered whelechair for a 12-year-old boy living with cerebral palsy, who was on a wait-list for this life changing equipment.
SBS Group
SBS Group held a staff lunch that raised $1,065 to help provide life changing early intervention for babies at risk of cerebral palsy.